If I had asked people what they wanted, they would have said faster horses.

– Henry Ford
Musical notation is pretty incredible. With just a few marks on a page, the creative ideas of some of the world's great artists are immortalized in a form that we can easily study, share and reproduce.
From such a strong base, it's fair to question whether a fully digital alternative is even necessary? Surely there's no need to reinvent something that's been working for hundreds of years already!
What you might not realize is that static formats like paper and PDF are only scratching the surface of written music's potential. Just like Google Maps fundamentally changed the way we navigate, our native digital score library has the potential to completely revolutionize the way you work with music.
Read on to discover 4 benefits you can try today, and 3 bigger-picture innovations that are closer than you might think.
---
What's available now?
Scores with Context
It's natural that everyone plays from their own instrumental part, but isn't it strange that it takes so much effort to find out what your colleagues are playing? Our digital scores make that a thing of the past by letting you quickly reference any measure from your instrumental part in the full score. Just hold down on the measure and tap "Lookup in Score" to try it out.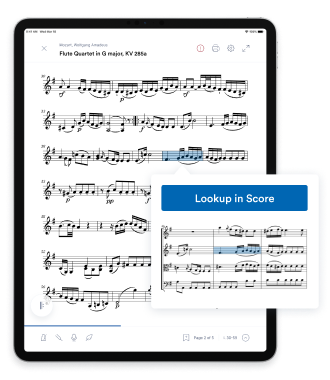 Better Navigation
Whether you're racing through pages to find the 3rd movement, or sticky taping page copies into your score to avoid an awkwardly placed repeat sign, navigating paper scores is a very hands-on process. Digital scores do away with those issues by setting key musical points as anchors for easy navigation. This means you can skip to movements and measures from the navigation bar at any time, and shortcuts to Repeat, Coda, D.S and D.C. signs will appear in your margin as you need them.


Customized Layouts
Static scores take a one-size-fits-all approach, ignoring the needs of individual musicians. In contrast, native digital scores can dynamically adjust your preferred music size, engraving style, device orientation and screen dimensions. This flexible format is particularly useful for musicians with vision difficulties, or anyone who prefers playing from a wide landscape layout.


Improved Discovery
If we still have your attention it's a safe bet that you know a lot about music. But discovering repertoire from outside your own field of knowledge can be surprisingly difficult. We've made this easier by introducing music-specific search filters, which let you browse works by criteria you define – such as Romantic era flute concertos by French composers that are under 15 minutes – and discover pieces you never knew existed. It's powerful now, and will only get better as our library grows.

---
More to come

AI Accompanists
Did you get a kick out of Google's Blob Opera last year? Our AI team are working with similar models to offer realistic sounding instrument synthesis directly in Enote. Couple this with the the audio transcription technology we'll use to power Automatic Page Turning, and you'll soon have the chance to practice with a surprisingly real AI-powered pianist or ensemble.


Modern Composers have their YouTube moment
Remember how YouTube disrupted the recording industry by giving artists a direct link with their potential audience? We want Enote to do the same for modern composers, and will be building tools to help them share their work, grow an audience and make a living from their music.


Personal Critical Editions
We're working on bringing together the critical findings of different publishers and researchers into one adjustable digital score, letting you compare versions and create your own "perfect" editions with your preferred insights.

---
These are just a few of the ways that our fully digital score format will improve the way we work with music. Follow our social channels to see the latest developments first, or download the Enote app to try some of these features for yourself.