Singers – we've got some great news for you 😁
After a lot of preparation behind the scenes, we're pleased to announce the addition of over 1,000 key vocal works to our library as Digital Scores.
What's in the release
Songs and collections from over 100 of the most important choral and vocal composers are included in the release.
Some of our highlights are below:
Johannes Brahms


96 songs from his Lieder collections
Franz Schubert


80 songs — including Winterreise
Robert Schumann


36 songs — including Dichterliebe
Hugo Wolf


22 songs — including the Eichendorff Lieder
Gabriel Fauré


11 songs — including Cinq Mélodies, op. 58
Gustav Mahler


9 songs — including the Kindertotenlieder
…and you'll also find songs from these key composers:
Clara Schumann

Joseph Haydn

Richard Wagner

Edward Elgar

Fanny Hensel

Charles Gounod
Charles Villiers Stanford

Anton Webern

Samuel Coleridge-Taylor

Cécile Chaminade

Bernhard Lang

Claude Debussy
Just search for the composer you're looking for and add a vocal filter to see all songs in your range. No hunting down scores. No hours of research. Just music at your fingertips.
Open the Enote App and start exploring from the search screen!
Digital Scores = Smart Features
All of these vocal scores have been added in our flexible Digital Score format.
That isn't just some gimmicky format – it's your key to a suite of tools that let you customize music to your needs.
Some of the best features for singers:

Instant Transposition:
Bringing much more repertoire into your range.

Smart Annotations:
Letting you highlight lyrics, symbols or full parts automatically.

Customizable layouts:
Set the notation size, engraving style and page layout you prefer.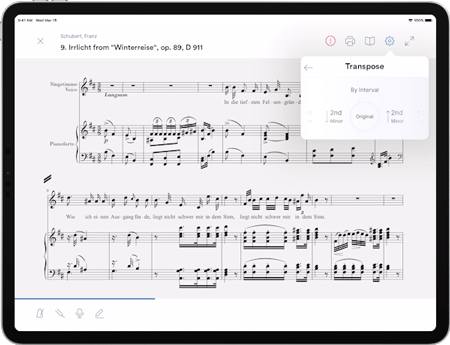 Where do I start?
We know, we know… it's hard to choose from such a big list! But getting used to finding new repertoire with search filters is one of the joys of working with a large sheet music library.
If you're still stuck, here are some exceptional recordings of some of our favorite new additions to give you some inspiration.
Brahms' 4 Lieder
Elīna Garanča delivers a beautiful rendition of "Wir wandelten" – the second song in the collection.
Schumann's Dichterliebe
Fritz Wunderlich begins the cycle with a flawless rendition of "Im wunderschönen Monat Mai".
Fauré's Cinq Mélodies
Renée Fleming's voice is the perfect compliment to the entrancing "En sourdine" from Cinq Mélodies.
Wolf's Eichendorff Lieder
Hermann Prey's recording of "Der Musikant" is the perfect entry point to the celebrated lieder.
Still here?
All these songs aren't going to sing themselves!
Every score in the release is already available in your library, so all you need to do is open the app and dive in from the search screen.
You can also rest assured that our collection of vocal works will continue to grow, so keep an eye out for our emails and push notifications.