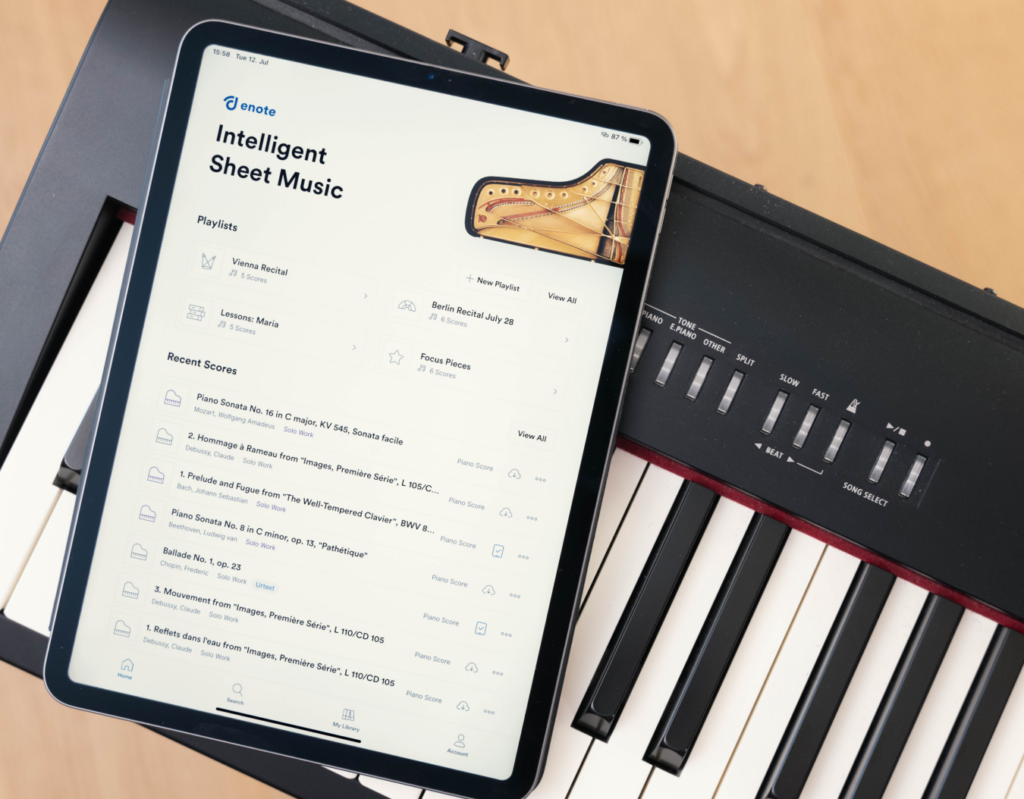 It's been another huge year at Enote – and we can't thank you enough for being a part of our journey.
We think the end of the year is a great opportunity to step back and celebrate our achievements over the last 12 months – and give you a sneak peek of what we have planned for the year ahead.
Milestones in 2022
4x the library
Our library quadrupled in size this year, and now offers most solo and chamber repertoire, plus over 600 important concerti and orchestral works.
Singers and classical guitarists had particular reason to celebrate, going from empty libraries to thousands of works to choose from, and our collection of Urtext Print Editions has grown to over 4,000 scores.
Smarter print editions
We stretched the limits of Print Edition scores this year by using our AI recognition technology to introduce some of our most popular digital-only features.
Among them were full score referencing from instrumental parts, preset navigation between repeat signs, automatic highlighting and annotation tools that align themselves to the score's content.
More musicians
Our community more than doubled this year to over 50,000 musicians around the world, almost half of whom are performing professionals. We'll be working on even more ways to bring you all together in the new year.
What's in store for 2023?
So much – and we're so excited to share it with you!
Orchestral, operatic and choral repertoire will be top of mind for our musicology team, who hope to have a comprehensive library of all key public domain repertoire by the end of 2023.
The option to upload your own scores to the Enote library is also coming in the very near future, which will finally make Enote the single home for sheet music you've been asking for.
We're also working on plenty of other innovative new tools to help you practice smarter, collaborate more seamlessly and find repertoire more intuitively – and will be kicking off work on one of our most requested features. We can't give too much away yet, but we're certain that you'll love what's to come.
Over to you
That's our plans, but we're always interested in hearing more about what you want out of Enote.
Just email help@enote.com with your feedback and suggestions, and we'll make sure your thoughts are shared with the right people.